MeOnly requests your Name, Address, Date Of Birth and Cell number.
MeOnly sends an SMS/E-mail to confirm supplied number.
MeOnly takes a picture of your state issued ID.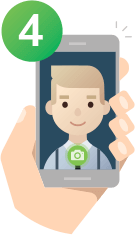 MeOnly asks you to take a selfie smiling amongst other potential poses.
MeOnly asks you awareness questions.
MeOnly asks you to say a few numbers.
Importing the above responses and patterns in response, MeOnly applies the given, predicted as well as web knowledge into our next generation, ultra-sophisticated Artificial Intelligence engines to create an identity verification score. Based on the score MeOnly decides whether to grant access to a client's platform.
MeOnly users can login at any time to update, purge or add on new modalities to their E-DNA profile by clicking here.